The Library receives a Green Communities Grant for HVAC replacement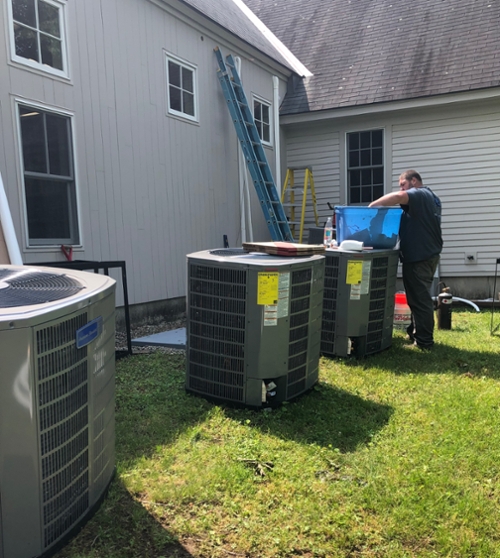 Thank you for your patience during our short closure (June 6-10) while we install a new HVAC system in the library. After 20 wonderful years in our beautiful library building, the HVAC is being replaced. Thanks to a competitive Green Communities grant, this new air source heat pump system will be installed the week of June 5-10, 2023.
This means that the library will have a brand new, reliable, energy efficient HVAC system to see us through the next 20 years and beyond. Thanks to Margie, Will, and the Library Trustees for making this project a reality.
This project received 100% funding through a Green Communities grant and Eversource rebates.
---
What is an Air Source Heat Pump?
According to Mass Save, (https://www.masssave.com/heatpump) "heat pumps are heating and cooling systems that move heat indoors in the winter and draw heat outdoors in the summer. Instead of burning fossil fuels, they're powered by electricity to move—rather than create—heat to keep your home or business at a comfortable temperature year-round. Today's cold climate heat pumps can be up to 400% efficient and many provide efficient heating at outdoor temperatures as low as -15 °F.
Ducted heat pumps operate using the same type of duct system as a central air conditioner or furnace and are often referred to as central heat pumps. These highly efficient systems work well for homes or businesses that already have ducts or where an owner is planning to install ductwork."
---
Didn't the library have geothermal heat?
Yes, the Leverett Library was built in 2003 with a ground source geothermal heating and cooling system. Since installation, the geothermal system has required frequent repairs and redesigns every few years to keep it functional. Despite this work, the library was not reliably warm in the winter months and electric resistance heaters were added to the system to make the building useable. These heaters proved to be the primary source of heat over the next winter, causing the building to expend a significant amount of electricity at high expense. In 2021-2022, The system also failed several times over the winter causing the library's community room to close due to lack of heat and generating unplanned and large repair expenses. The Library and Facilities staff and Library Board of Trustees members finally agreed that they no longer want to invest in making the now almost 20 year-old geothermal with electric resistance system work, but would rather invest in making the Library an efficient and pleasant place to be with a reliable heating and cooling system.
---
What is the Green Communities Program?
The Green Communities Division is part of the Massachusetts Department of Energy Resources. They provide grants and assistance to towns to reduce energy use and costs by supporting clean energy projects in municipal buildings and schools. To learn more, check out their website: https://www.mass.gov/orgs/green-communities-division
Posted: to General News on Wed, Jun 7, 2023
Updated: Fri, Jun 9, 2023